Gutter Maintenance Products
It is extremely important to keep all water properly (contained) flowing away from your home or building. But, maintaining a gutter system can really be a really big hassle! To make things easier for owners, we have options for you that work really well.

Every year something changes in the gutter industry. And, over the years we have seen all kinds of guards, catchers, diverters, etc .. With the number of choices available in the marketplace today, it can become very overwhelming for an individual to choose the right product for their particular situation. That is where our decades of experience and gutter/eavestrough expertise comes in. We help people narrow things down so they can choose from the best options for their unique situation.
Over the past 24 years, JB Gutterman has time tested our theories on gutter maintenance products. We have tried, looked at, learned about,and watched being manufactured many kinds of different gutter maintenance products.

We have narrowed down the range of possible choices to what works best and most effectively. Because we recognize that not all situations can be addressed by a "cookie cutter" solution, or a band-aid we do provide options for custom products and systems. If you are looking for a different product such as the mesh screen type of the gutter protection or for rain harvesting products, we can make this available to you. Please contact us if you have a special product or system in mind. We would love to discuss the possibilities with you.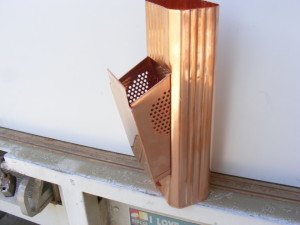 Clean Out Boxes:

Available for square, rectangle, or round downspout. Easy to use and a more cost effective solution to keeping your downspouts free of clogs, or even worse… the perimeter drain from clogging – any clogging of the drain around your house or building can be VERY expensive to repair or unclog.
We offer a clean out box that goes on the downspout at a comfortable level so that the home owner or grounds maintenance individual can clean out the boxes on the downspouts easily.
Can be added at a later date to most downpipe systems.


How it works:

The gutter is installed as high up on the fascia board as we can go, with a decent slope for the water to run out. It doesn't take much for water to run and to be aesthetically pleasing to the human eye.
Instead of having plastic or metal baskets at the outlet opening we instead put a bigger completely flush with the gutter outlet allowing all water and debris to flow down the downpipe. The debris is then caught in the clean out box before the water continues to flow down into the draining system.
Available in most colours shapes and sizes!
other materials such as galvalume, copper
sizes include round, square, big and small

Gutter Sentry for 5" and 6" K-Style Gutter:


This gutter protection is made for new gutter being supplied and installed. In the .023 aluminum material, this product is 60% thicker than other gutter protection products on the market. Has hanger strength direct on the cover giving the strength of 1 hanger per 5 inches. (Regular gutter is installed with hangers every 12-18 inches)

Two surface ridges allow debris to sit higher on the surface – this allows the wind and weather to push the debris away from the guard and gutter so your system needs minimal maintenance.

The unique and patented "football" design allows gutter sentry to fit over and into the lip of most commonly used gutters easily and efficiently The drainage holes within the "football" allow for continued drainage.

Gutter Sentry has the highest drainage of any gutter cover on the market today – with more, and better shaped holes per square inch in comparison to the leading competitors.

Available in Natural (tin-ish, silvery color), charcoal, black, and dark brown.
Available Colors

This is an example of how it sits in the gutter, and what it looks like.
This example is the 6" k-style.
Please see more information here:

Retro-fit for 5" and 6" Gutter:


This gutter protection system is made for existing gutter systems. Made by the same factory as Gutter Sentry, this is an excellent alternative gutter sentry.

Just like Gutter Sentry, the Retro-fit is substantially thicker than any other competitor on the market in its division. Nice and discreet but also strong and effective.

Retro-fit has surface ridges that allow debris to sit up higher with the edge of the gutter allowing the wind and weather to take debris away.

Using longer weather resistant screws we place this product on your existing gutter system and screw it into the hangers of the gutter – enough to hold the guard in place so it doesn't take flight under high winds, but not screwing it down too much so it becomes ineffective.
Can be added to the system later on.


Available only in the natural color (silverfish tin type color)
Alu-Rex:
Alu-rex also has a great gutter guard on the market.


The T-Rex is their hanger style gutter protector. Very strong fastening system with a 40 year clog free warranty.

Gutter Clean is the gutter guard for existing rain gutters. Very functional and superior in installing ease. Also comes with a 40 year clog free warranty.

This is a example of Alu-Rex how it sits in the gutter, and what it looks like.
This example for the 5" k-style.
Please find out more information here: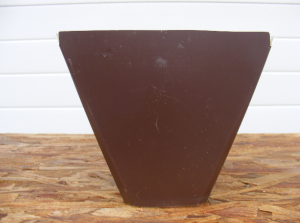 Gutter Funnel:

Funnels are used to either widen the bottom of the gutter outlet so more water can flow out faster or so two down pipes can come together into one down pipe.